This bathroom was more than ready for a remodel. The Lake Oswego home owners are considering selling within the next 5-10 years, but wisely wanted to update the bathroom to enjoy it before they considered selling. This bathroom and especially bathtub is now their relaxing spot after a long day.
The Hydro System bathtub called "lacey" has an inline heater and bubble massage unit that is place away from the tub so it is very quiet when the bubble massage bathtub is on. The Beveled subway tile is a sophisticated upgrade from plain subway tile. The Beveled subway tile is also in a matte finish to give it a more unique traditional bathroom feel.
The cabinets that Dendra Doors made the custom vanity cabinet along with the large stack of traditional white cabinets. The new cabinets by Dendra Doors matches the cabinets that are in the rest of the home.
Granite Counter tops are installed in this Portland Metro area bathroom remodel. The glass subway tile from the shower was carried over to the backsplash for continuity.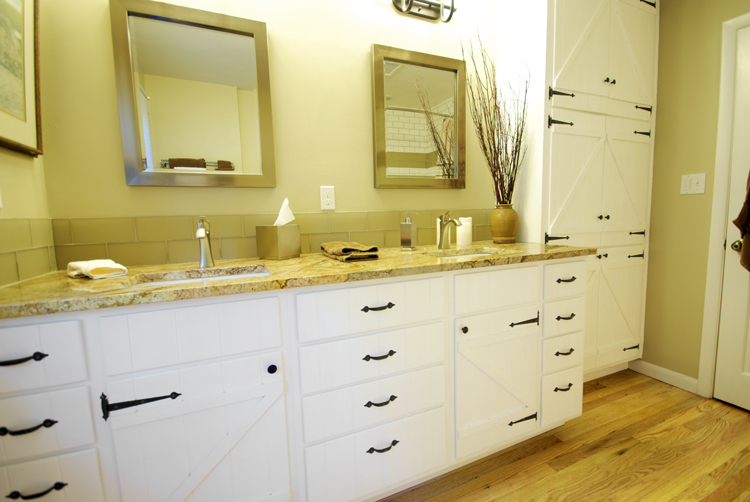 Stainless steel mirror with the same finish on the Moen Faucets for thie bathroom project. The home owner was skeptical of making the vanity height at 36" but in the end they found it very convenient.
The Beveled Subway tile with glass subway accents brings color and sophistication into the bathroom remodel.
Custom Cabinets were made this home. The cabinet match the rest of the homes cabinetry down to hand hammered rot iron handles and hinges pulled from a 1920's home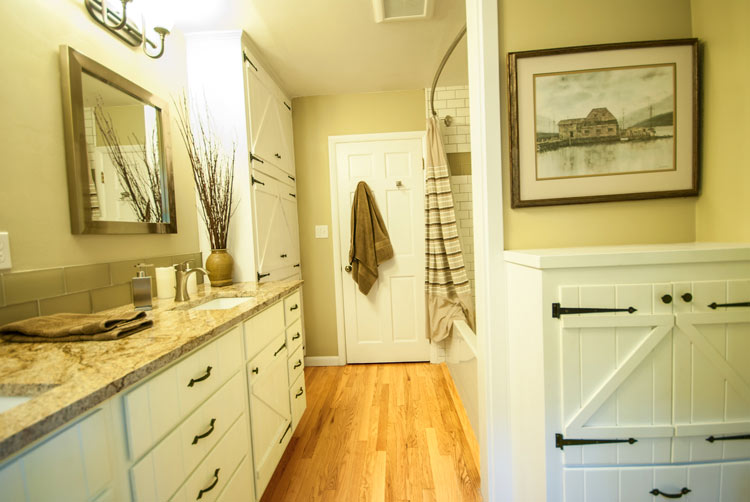 The bathroom had existing hardwood flooring that had not been refinished in a long time. Refinish the hardwood floors was cost effective and gave new life the bathroom. Granite Counter tops with under mount sinks and Stainless steel Moen fixtures.
Before/during bathroom remodeling pictures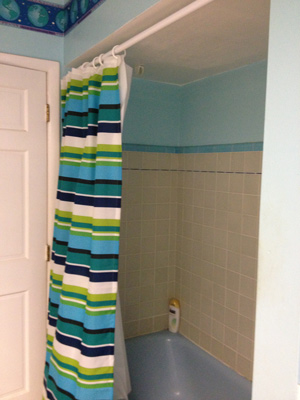 Do you like the blue tub with matching accent tile?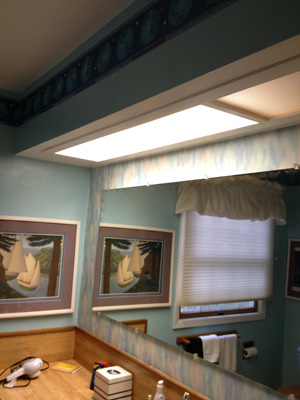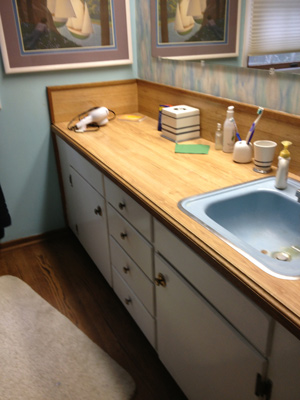 Oh and the matching blue sink