When you are thinking about a bathroom remodel in Portland Oregon or anywhere else, it all comes down to the design and function of your home. Our design teams can help you design your bathroom remodel in Portland Oregon or your bathroom remodel in Eugene Oregon and far between. Our custom designed bathrooms are tailored around your needs and wants. We can help you create a walk-in open air shower or a traditional bathroom using materials that are timeless in style and function. The desgn phase of your project is a collaboration between you and us to make your space beautiful and functional.
We are a full design and build firm that will take you through the entire process. We are general contractors and we only work with the same sub contractors for each and every project in Portland & Eugene Oregon. Our reputation is important to us and we know these few electricians, plumbers, roofers, HVAC and countertop specialist will do the job correctly and how we want them to. These firms help your bathroom remodel become exactly what you want.

We take great pride in working with you to design and build the perfect bathroom remodel, exactly how you want it. We will guide you to good quality material choices that will last and be timeless. Our designers will tell you the good and the bad of trendy materials vs. timeless materials, soaking bathtub vs. jetted bathtubs, Granite counter top vs. Quartz counter tops, natural tile vs. porcelain tile and pendant lighting vs. recessed lighting. Devine paint Oregons' own, is a staple for our bathroom remodels in Portland Oregon. Devine has great colors that help with the rainy days and are perfect for the sunny ones.
We do all of the work except for the few specialized contractors we hire. We have several teams of carpenters, some of whom have worked for John Webb for over 15 years.
John Webb Construction and Design always offers free estimates and designs to our bathroom design and remodel clients, whether you are in Portland Oregon, Eugene Oregon, Vancouver Washington, the Oregon Coast or Bend Oregon.
click the limages below to see more details about these bathroom remodels.
(our latest completed bathroom remodel in Lake Oswego Oregon)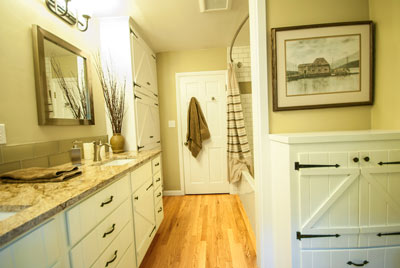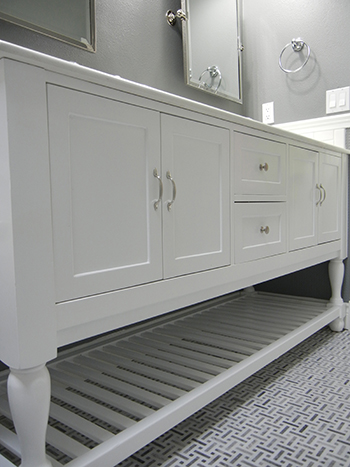 A bathroom designed and remodeled for kids
(bathroom remodel in Oregon)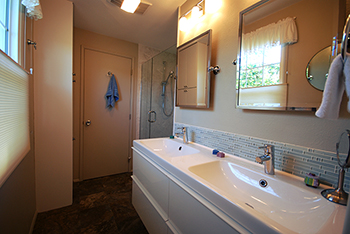 Two modern bathrooms with walk-in showers and beautiful countertops
Two traditional bathrooms, dark natural wood cabinets and white cabinets.
Travertine tile and countertop is used in the top left bathroom design.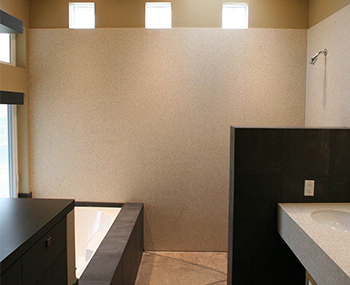 Ultra modern bathroom to just a taste of modern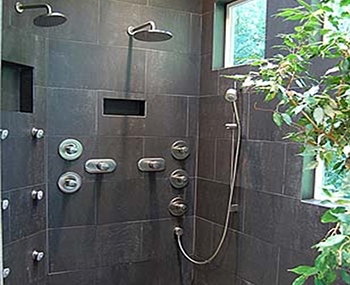 Before and after bathroom photos
New home construction in Oregon