The existing kitchen was not conducive to daily live or having company over. This kitchen remodel in Portland Oregon transformed the room into a modern living space that kept with the time period of the home. Alder cabinets and trim were used. The home owners helped hand pick every material that was used during the construction process.
The kitchen design centered around removing the wall in the small kitchen. We engineered the large beam to carry the load across the entire room. The existing cross beam had to stay as well but it was a different color so we chose to paint it the same color as the ceiling.
New custom cabinetry of alder wood was designed and installed in an "L" shape. The cabinetry was also used to create a custom island with concrete tile counter top. It was a trick to get the island into a place where there was good room to pass through on either side. A new electric stove was installed with a fan on a remote in the ceiling. We didn't want a range hood obstructing the view from the new windows and doors we installed. The new windows added a lot of light to the room as well as ventilation for the hot month of August in Portland Oregon.
New hardwood Oak flooring installed and finished to be exactly the same as the existing wood floors in the home. Tile was on the kitchen floors previously.
Contact us to talk about your project
Go to more kitchens (click here)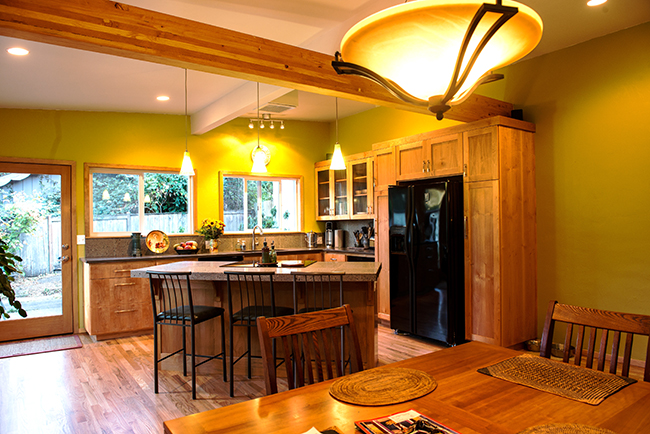 the completed kitchen remodel. The dining room table was reused but new stools were purchased for the island seating.
You can see the new windows and door that were installed.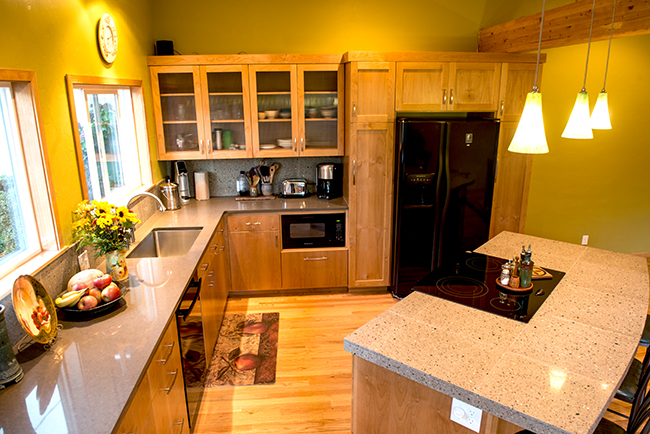 A good look at the kitchen island shape with concrete tiles.
The counter top is Caesarstone quartz with the same concrete tiles used in the island as the backsplash.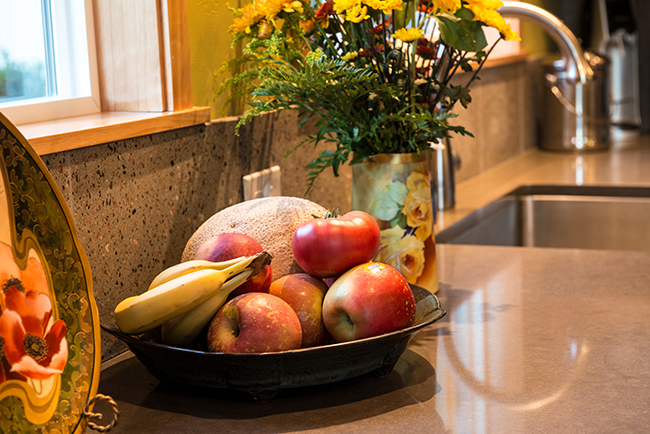 Quartz counter top with the concrete tile for the backsplash.
The grey colors are a great nuetral pallete to accessories with and change the look of the kitchen with just a bowl of fruit.
We used Kraus's under mount sink and Hansgrohe's kitchen fuacet for the remodel.
They are both great quality for a good price.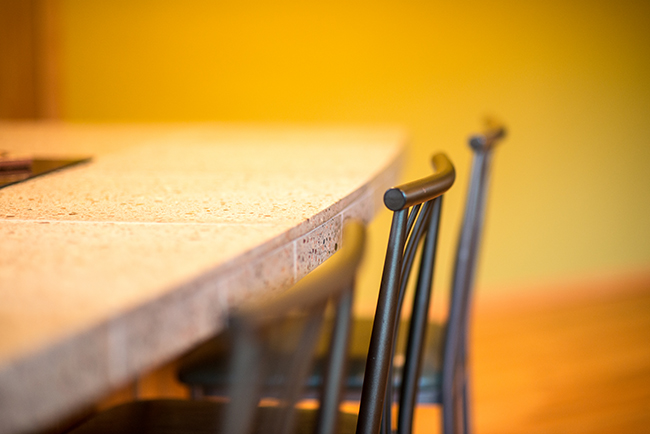 A close up of the concrete tile by wausa
Here are some of the before pictures
Our designed included removing the walls that divided the kitchen and dining room. They wanted a place were all their friends could gather and have fun. The Remodel accomplished that for this Oregon couple.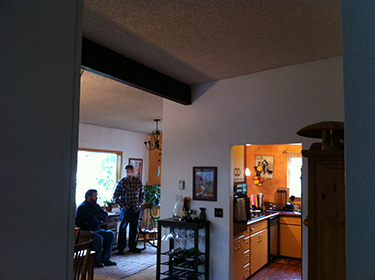 The kitchen before was not planned well and the cabinets were very low. They were unable to get normal sized appliances to fit on the counter tops. The construction process opened the entire space while adding a lot more function to their daily lives in the kitchen.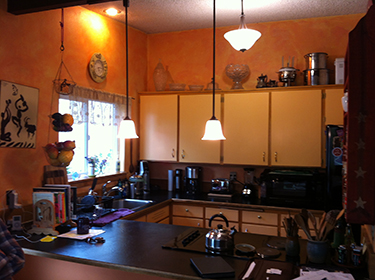 Go to more kitchen (click here)
Home building in Portland Oregon & Eugene Oregon